Live from the North Pole
Judy is very excited to announce that her good friend, Mrs. Santa Claus, is on YouTube with her very own television show live from the North Pole! She's joined by her good friends, Freddie the Little Fir Tree, and Holly the Head Elf. Join her as she reads kids' letters, announces names from Santa's Book of Good Girls and Boys, and more! Check out her YouTube Channel.
And be sure to leave her a comment!
---
A Beautiful Thing
Dear Friends,
I stand for all children, no matter what their ethnic heritage, socioeconomic background or sexual orientation. It pains me to think of the millions of children who are the victim of bullying just because they don't fit "the mold" of the average "normal" person. I believe that early education about differences will go a long way toward eradicating the ignorance and fear that lead to hatred, bullying and exclusion. It's time that gay pre-teens and teens are able to live a life free of pain and fear.
Toward that goal, I have written, recorded and released a new song entitled "A Beautiful Thing." The song tells the story of how I explained to my young daughter back in 1992 that sometimes girls fall in love with girls and boys fall in love with boys. The song was arranged and mixed by Grammy® winning producer Ricky Kej and Vanil Veigas in India, and the video was directed by Nicole Girard of Rowley, MA. I hope you will take a few minutes to watch it and, if you are of like mind, please share it.
Thank you very much for your consideration of this important topic. You will find the video here.
Sincerely, Judy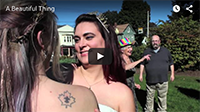 ---
Judy's New Video - Judy stars in a brand new video by up-and-coming New England based filmmaker Nicole Girard, featuring "Better Things to Do" from Judy's CD THE TUNE ROOM. See it first here!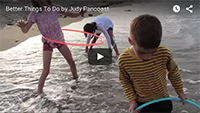 ---
Judy Pancoast - Author!
Judy has written a holiday tale based on her beloved hit, "The House on Christmas Street." It was begun in collaboration with her friend, world renowned author Rick Hautala, who, sadly, passed away in March, 2013.
Judy continued with the manuscript and finished it in 2014. It is now in the hands of a literary agent, but while awaiting word on publication, Judy would like to share the first chapters with her fans. Read it here first!
Chapter One of The House on Christmas Street.
Chapter Two of The House on Christmas Street.
---
Hello Librarians!
Judy has developed a fun, interactive musical program to go with the Summer Reading Collaborative Theme, "Every Hero Has a Story." The program has two parts: Part One focuses on different types of heroes…from superheroes to young heroes, heroes in the community to animal heroes! Part Two helps children see how they can be heroes by being brave…brave enough to be themselves, brave enough to say "no" and brave enough to walk away from bullying. The program ends with the rousing pop anthem "Little Cheerleader," which encourages children to be their own number one fan.

With 19 years worth of experience performing library programs, Judy is a professional, reliable presenter with excellent skills with groups of children and top recommendations from librarians around the country. Summer performance dates are filling up fast! Give Judy a call today at 603-716-3646 to reserve your preferred date!
"One of the best programs we've ever had!"


~ Vaunda Nelson, Children's Librarian, Rio Rancho Public Libraries
---
Judy's Holiday Hit!
The 2014 Christmas season saw the release of a brand new version of Judy's holiday hit, "The House on Christmas Street," and it was heard on radio stations all over the country! You can hear it here now.
---
Judy's Back on the Radio!
Judy is excited to announce that she's back on the radio! After a 25-year career in broadcasting that took her from Maine to major markets like Nashville, Philadelphia and Boston, Judy took a break from radio to focus on her music career. Then along came 93-7 The WAVE in Bar Harbor, Maine and made her an offer she couldn't refuse! She's still writing, performing and recording music, but she can now also be heard every weekday from 10am - 3pm EST at 93.7 FM on the radio in Downeast Maine and streaming online at www.937thewave. Be sure to send Judy an email here to let her know how you like the show, or send her a shout out on her Facebook page!
---
---
Judy's Long-Awaited Second Christmas CD!

Click here to Order!
---
Judy Pancoast Shines in Carpenters Tribute!
Bill Copeland Music News

---
Judy's Most Acclaimed CD!
Judy's CD "Weird Things are Everywhere!" has received a GRAMMY® nomination in the category "Best Musical Album for Children." Judy is thrilled to be among the nominees for music's most prestigious award! Grammy® for Best Children's Musical Album
"Weird Things" also received a coveted STAR review (the highest honor) in the August issue of School Library Journal.
And Rave Reviews from Examiner.com and BostonChildrensMusic.com
It's one of Boston Children's Music.com's Top Ten CDs of 2010