Visit Judy
Elsewhere on the Web

Let the world know you're Judy's fan on Facebook

Follow Judy on Twitter
---
---
Bedford Summer Concert in the Park
Judy was so excited to be back out on the road with a full concert schedule this summer. If you couldn't make it to one of her shows, you can still join in the fun by watching this video of her show for the Bedford, NH Parks & Recreation Department, courtesy of Bedford Community Television!
---
Judy's Christmas Streaming
Judy's Christmas music is streaming wherever you listen to music. Please add "The House on Christmas Street" or any of Judy's other holiday tunes to your Christmas playlists … and ask your friends to do it too! Merry Christmas from Judy and her family!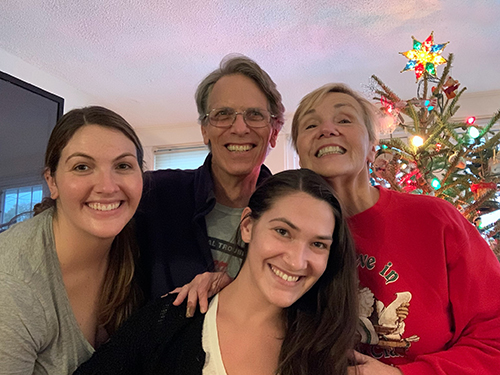 ---
Concerts for Seniors
Judy is now booking shows for older audiences in senior living, rest home communities, and for senior organizations. Audiences are enjoying her concerts of popular songs from the 50s, 60s, 70s, and 80s with a few older standards mixed in, and they love her warm personality as well! Reasonable rates make Judy's concerts an affordable choice for your facility or group. Contact Judy today to book a date!
---
New Musical
For the past several years Judy has been working behind the scenes writing musicals for the stage, and now her musical for teens "GIRL ON THE MOON" is ready to be licensed by your school theater troupe or community youth theater. The show is fun and educational, with excellent roles for female-identifying actors, and focuses on a group of girls who get together to watch the moon landing on July 20th, 1969 because one of them wants to be an astronaut. For more information, please click here.
---
Attention Christmas Decorators!
Back by popular demand, Judy is once again offering customized versions of her beloved hit, "The House on Christmas Street!" Find all the information here!
---
Streaming Live
Judy is available to perform via Zoom, Facebook or any other streaming platform for your library, concert series, birthday party or other special event. The best thing about virtual concerts is that they can be done for any event anywhere in the world! Judy is a complete natural performing for the camera, as you can see by watching the concert she recorded for the UNH Manchester Smyth Summer Concert Series this summer. If you are looking for the best in professional children's musical entertainment, contact Judy today!
It was great to have you perform for us! The way you incorporate the importance of libraries and reading into your songs always blows me away! There were only a few in attendance, but the ones that came had a blast! One girl danced and sang through the whole thing! — Janis Weirs, Director, Mary E, Bartlett Public Library, Brentwood, NH
I'm so thankful that we had you to give our summer reading program a much needed boost of energy in this time of Covid. — Lauren Maclachlan, Assistant Librarian, Newmarket Public Library, NH
We loved it … your upbeat attitude and presence on the screen. Your songs are super catchy and fun. My favorite of course was the one about librarians! When we can have in person programming again we would love to have you here in person for a program. Thank you again! — Sara Turner, Children's Librarian, Lewiston Public Library.
And remember, all of Judy's children's music is streaming on your favorite music platform. If you'd like to help support Judy, streaming is the best way, and remember to check out her merchandise page. Thank you very much! Your support is always appreciated, but now, more than ever!
---
The House on Christmas Street!
Judy's acclaimed novel based on her hit song, The House on Christmas Street, is now available as an audiobook! You can find it on iTunes, Audible and Amazon here.
And when you go out Christmas shopping this holiday season (be safe- wear a mask!) listen for "The House on Christmas Street" in your favorite store and restaurant. It's going to be played on the sound systems of over 40,000 businesses during November and December! Be sure to let us know if you hear it!
---
Songs for Teaching
Judy' s creative, clever and acclaimed original children's songs are now available at Songs for Teaching, the website educators turn to for quality music to enhance learning. Here you can find thousands of songs on a variety of topics, songs for holidays, special occasions, and more! Judy is proud to be a part of this vital resource. And it's not just for teachers...anyone can shop there! Check out Judy's music here.
---
Judy's Latest Video
Judy's got a brand new song out, and it's sure to make your kids laugh....in fact, it's called "Seven Words that Make Kids Laugh!" and you can find it right here.
Be sure to leave a comment on YouTube and let us know how you like it!
Watch this space for information on how you can help Judy create her newest children's album!
---
A Beautiful Thing
Dear Friends,
I stand for all children, no matter what their ethnic heritage, socioeconomic background or sexual orientation. It pains me to think of the millions of children who are the victim of bullying just because they don't fit "the mold" of the average "normal" person. I believe that early education about differences will go a long way toward eradicating the ignorance and fear that lead to hatred, bullying and exclusion. It's time that gay pre-teens and teens are able to live a life free of pain and fear.
Toward that goal, I have written, recorded and released a new song entitled "A Beautiful Thing." The song tells the story of how I explained to my young daughter back in 1992 that sometimes girls fall in love with girls and boys fall in love with boys. The song was arranged and mixed by Grammy® winning producer Ricky Kej and Vanil Veigas in India, and the video was directed by Nicole Girard of Rowley, MA. I hope you will take a few minutes to watch it and, if you are of like mind, please share it.
Thank you very much for your consideration of this important topic. You will find the video here.
Sincerely, Judy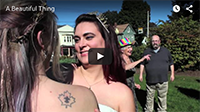 ---
Better Things to Do - Perfect for Red Ribbon Week
Judy's song "Better Things to Do" was written with the students at an elementary school in Maine with help from a grant for projects designed to combat substance abuse. It's perfect for Red Ribbon Week celebrations. Share the video with your students here!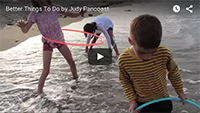 ---
Judy's Most Acclaimed CD!
Judy's CD "Weird Things are Everywhere!" has received a GRAMMY® nomination in the category "Best Musical Album for Children." Judy is thrilled to be among the nominees for music's most prestigious award! Grammy® for Best Children's Musical Album
"Weird Things" also received a coveted STAR review (the highest honor) in the August issue of School Library Journal.
And Rave Reviews from Examiner.com and BostonChildrensMusic.com
It's one of Boston Children's Music.com's Top Ten CDs of 2010