Judy's Concerts
"If you're looking for a great show for youngsters with a lot of heart, I must say Judy Pancoast is outstanding. I can highly recommend Judy as she has the amazing ability to draw in a crowd. I love her professional approach and would encourage you to hire her as we have hired her for 15+ years to play for the Town of Bedford Parks & Recreation Department."

~ Jane O'Brien, Manager
Any celebration, fair, festival, assembly or event is made brighter and better with the addition of a Judy Pancoast performance. As a professional performer since the age of 16 and a family entertainer since 1996, Judy has toured in 49 US States and abroad and has brought her magic brand of Bubblegum Pop for Sweet Kids to hundreds of thousands of children. Whether they've been in the smallest library or the largest concert venue, children who have experienced a Judy concert come away feeling joyous, encouraged and beloved.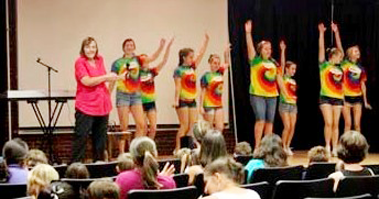 Judy has received outstanding reviews from a broad range of presenters, including concert promoters, festival organizers, school administrators and librarians. She has been honored for her wonderful work with children by the New Hampshire State Senate, and is on the juried roster of Artists in Education of the New Hampshire State Council on the Arts and the New England Foundation for the Arts. For a look at some of the comments on her work, click here.

Judy's concerts are flexible in scope and length and are appropriate for any event involving children and/or families.

To find specific information for a concert in your venue, please choose one of the following options:

Theatres and Performing Arts Centers
Fairs, Festivals and Community Celebrations
School Concerts
Library Concerts
Child Care Center Concerts (Contact us for Info)
Christmas and Halloween Concerts (Contact us for Info)

Judy's concerts outside of her home state of Connecticut are now eligible for partial funding from the New England Foundation for the Arts. For details on how you can bring Judy to your event at a very reasonable cost, click here.