Libraries
Judy Pancoast's Masters Degree in Education/Reading informs all of her songwriting and helps to make her the ideal choice as a library program presenter. Since 1996 she has performed at hundreds of libraries all over the United States, and has been on the select roster of the New Hampshire State Library's "Kids, Books & the Arts" Summer Reading Program six times. Librarians rave about her lively, original and interactive musical programs which can be adapted for any Summer Reading theme, and have also booked her for many Children's Room holiday parties and events.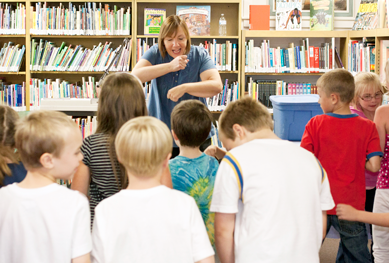 "Thanks so much! We had a great time and our customer comments were through the roof!"
Linda Morgan Davis, Area Manager
Albuquerque/Bernalillo County Library System
---
Librarians
Remember that Judy LOVES libraries, and therefore her rates are always negotiable with great discounts for block bookings. Dates are already being filled, so email Judy here or call her today!
Thank you for the wonderful program! You are awesome and so is your daughter! The enthusiasm you brought to our summer reading program Dream-Big Read! Kick-Off Party is something I hope to continue throughout the summer. Children and parents alike thought you were fun and generated joy! I have to agree you are the best way to start off a summer! We wish you well and we will continue to sing your praises. Loved your songs:)

Thanks again!

Kathy Godin, Children's Librarian, Berlin (NH) Public Library

---

Hi Judy,

Thank you for performing at Bethlehem Public Library's "Dream Big" Summer Reading Program Kickoff. The turnout was great and your performance got the kids moving and grooving! They have been flocking to the library since your performance to sign up for the reading program – some of them humming "Dream Big". Your songs provided inspiration and reinforced the importance of their local library in their lives. What a way to kickoff our summer reading program! Thank you again!!

Elaine Winters
Library Associate – Children's Services
Bethlehem Public Library
---
Judy is available and eager to add her own brand of literacy through music to your library programming. To date she has thrilled young patrons at these Library Systems and many more:
Albuquerque/Bernalillo (NM) County Library System
Austin (TX) Public Library System
Atlanta (GA) Public Library System
Baltimore (MD) Public Library System
Boston (MA) Public Library System
Charleston (SC) Public Library System
Mobile (AL) Public Library System
Pensacola (FL) Public Library System.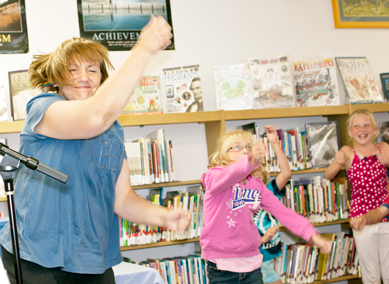 Past summer reading thematic programs which are still available include:
Dream Big- Read!
Take Me to Your Reader
Wild Reads
Once Upon a Time
Come Outside and Play! (environmental "green" theme)
Beach Reads (Make a Splash!)
Get Creative at Your Library
Contact Judy now to book one of the above programs or to invite her to design a musical program around your theme. Like so many other librarians who have invited her back time and time again, you'll be delighted with the way she lights up your library!
"We are so excited about having you for kick off - your show is so energetic!!"
Susan Peoples, Agawam, MA, Public Library