The Judy Crew is a dance team made up of talented, enthusiastic teens who love kids and love to dance. The Crew accompanies Judy to her larger shows and performs several choreographed numbers while Judy sings. They also perform skits and go into the crowd to dance and sing with audience members. They'll be happy to meet you and sign autographs after each performance.

Send your favorite Crew member an email here.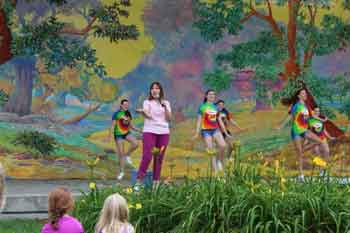 Cookie Dough
Korra from Avatar because she is tough and a bit headstrong
Barbie cruise ship
Superman

Peanut Butter and chocolate
Goofy
My barbie jeep
I would have flying powers so i can travel the world


Soft Serve Vanilla
Holley Shiftwell from Cars
Playmobiles
Batman


Moose Tracks
Snoopy
American Girl Doll - Molly
I would be Miss Marvel she is an adventurer and excellent pilot.


Birthday Cake
Minnie Mouse
Barbie
I would have all the powers in the world


Peppermint stick
Kim Possible
My stuffed Tigger
I would be Wonder Woman


Cookie Dough
Art from monsters university
Dolls
Superman