About Judy
GRAMMY NOMINEE JUDY PANCOAST

BIOGRAPHY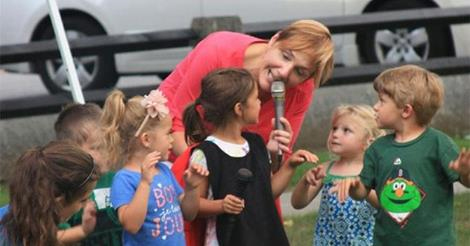 Effervescent, energetic, entertaining … all of these words describe Judy Pancoast; a singer, songwriter and recording artist who radiates joy in her music. She crafts clever songs with infectious melodies that delight the young and the young at heart, as evidenced by the 2011 Grammy Award nomination for Best Children's Album for her one-of-a-kind CD, Weird Things Are Everywhere: A Reading Road Trip with Judy Pancoast!
A child of the 70's, Judy grew up in Maine, listening to Top 40 tunes with memorable melodies and catchy hooks. Today she makes music for kids all over the world whose parents value the innocence and joy of childhood: totally terrific tunes with timeless lyrics about childhood experiences that resonate across the generations. For the past 25 years Judy's outrageously fun family performances have created a ruckus throughout the USA wherever children and families gather. The children at the Nyumbani Orphanage in Kenya experienced the joy of working with Judy when she traveled twice to Nairobi for week-long songwriting workshops. The songs are available on a fund raising CD for the orphanage.
In addition to her concerts for children and families, Judy has also crafted a cabaret show in honor of the most influential artists in her life, The Carpenters. The show, entitled "All My Best Memories: Built by The Carpenters," had several successful New York performances at renowned cabaret club "Don't Tell Mama" and is available for booking at small venues throughout the northeast.
Judy is perhaps most well-known world-wide for her infectious Christmas hit, "The House on Christmas Street." which can be heard each Christmas season at residential synchronized light displays and on radio stations across the country. The acclaimed official video currently has over 250k views on YouTube. To thank decorators for using her music in their displays, Judy has undertaken four cross-country and international "The House on Christmas Street" tours, wherein she presents community concerts on the lawns and in the driveways of those decorators. Each concert raises goods and dollars for a charity chosen by the decorator.
Adding a new credit to her resume, Judy has been writing musical theater for the past six years. Her middle school musical, GIRL ON THE MOON, is available for licensing by theater troupes and schools. Find out more at www.girlonthemoon.org.
A Maine native, Judy lives in Connecticut with her husband, Philip, and three fur babies…Cookie, a rat terrier, and sister-cats Hazelnut and Cat Deeley. All are rescue pets. Their human daughters, who grew up performing and touring with Mom, now work in the entertainment business.